GF Type Combined DAF
Brand : GONGYUAN
Product origin : CHINA
Delivery time : 30 DAYS
Supply capacity : 500 SETS/YEAR
GF-Type Combined DAF

Overview
In the water treatment process, solid-liquid separation technology and its equipment is one of the key projects. Dissolved air flotation is one of the most effective methods which is used for reomving suspended mattter that density close to water. Our Gongyuan GF Type Combined DAF is combined of DAF tank, dissolved air system, pipes, dissolved air releasing system, skimmer (Based on the customer's need, we will classify the skimmers into three types, combined type, travelling type and chain-plate type .) and control cabinet.
Features
※Small footprint, lower energy consumption, easy operation and simple management
※High air dissolving efficiency,stable treatment effects, electromechanical integrated control
※Our Gongyuan GF Type DAF has been fitted with unique dissolved air system with delicate structure. Dissolved air efficiency will be over 90%. Gongyuan group possesses a large number of patented technology. Our dissolved air system has stronger anti-clogging ability than other similar product.
※Our DAF has been equipped with new type of dissolved air releaser, which has the advantages of high releasing degree. And the average particle size of micro bubbles is about 15~30m.
※ Our GF Type DAF will adopt chain-plate type skimmer with advantages of stable operation and high scarping efficiency.
Application
As one type of sewage treatment process, DAF unit is widely used in sewage treatment and water purification engineering. This equipment is suitable for the following areas:
(1) Recycle and reuse of papermaking sewage in paper and pulp
(2) Removal of heavy metal ions
(3) Oil separation of oil refinery effluent
(4) Removal of tannery sewage
(5) Removal of chromaticity and impurities in printing and dyeing wastewater
(6) Solid-liquid separation of sewage and membrane after all-kinds of bio-treatment
(7) Sludge thickening (Capacity: 30%~50%)
Main Technical Parameter
Model

Capacity

(m3/h)

Dissolved air volume

(m3/h)

Main motor

(kw)

Aerated motor

(kw)

Skimer

(kw)

Total power

(kw)

GF-1

0.5-1

0.3-0.5

0.55

0.55

0.18

1.28

GF-2

1-2

0.5-0.8

0.55

0.55

0.18

1.28

GF-3

2-3

1-1.5

1.1

0.55

0.37

2.02

GF-5

3-5

1.5-2

1.1

0.55

0.37

2.02

GF-10

5-10

3-4

1.5

0.75

0.37

2.62

GF-15

10-15

4-5

2.2

0.75

0.37

3.32

GF-20

15-20

5-7

2.2

0.75

0.37

3.32

GF-30

20-30

8-12

3/5.5

0.75

0.37

4.12/6.62

GF-40

30-40

10-15

5.5

0.75

0.37

6.62

GF-50

40-50

15-18

7.5

1.5

0.37

9.37

GF-60

50-60

18-20

7.5

1.5

0.37

9.37

GF-70

60-70

20-25

11

2.2

0.55

13.75

GF-80

70-80

25-30

11

2.2

0.55

13.75

GF-100

80-100

35-40

15

2.2

0.55

17.75

GF-150

120-150

40-50

15

2.2

0.55

17.75

GF-200

180-200

70-80

22

4

1.1

27.10
Note: The above technical data is only for reference.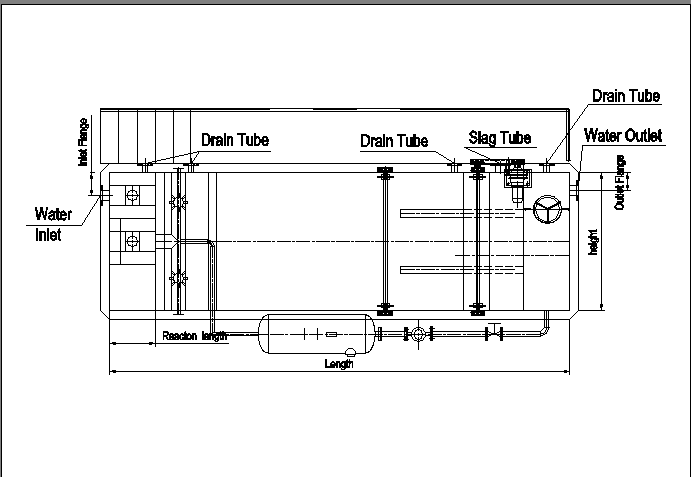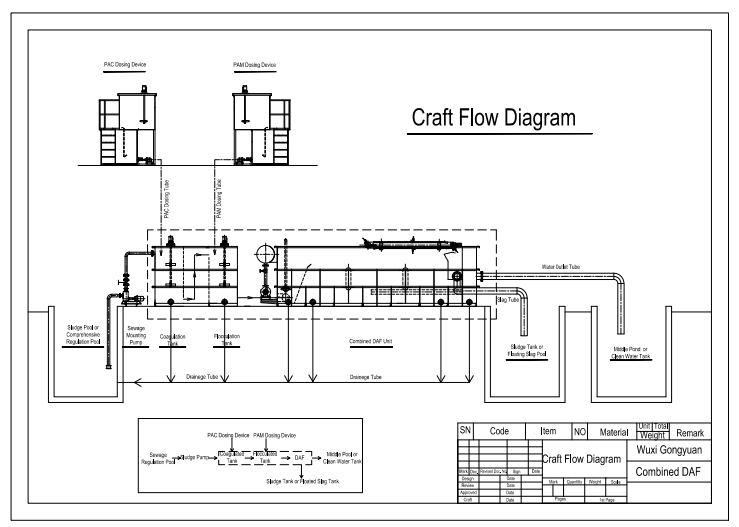 Gongyuan Environmental Competitive Advantage
(1) Gongyuan Group has more than ten years of experience in sewage treatment area and environmental protection industry.
(2) Gongyuan Group always adheres to the core of product quality and corporate reputation. We have a team of experienced design and development technical team and production management personnel, improving the scientific management system.
(3) To produce the best quality product, we only select the best supplier via our unique supplier system.
(4) Gongyuan Group have our own R&D center and complete manufacture system.
(5) Gongyuan Company have coporated with many universities such as Jiangnan University. We have our own Industry-University-Research center.
(6) For manufacturing best product, we have the special QC inpector and testing methods& machines such as visual inpection, electric spark inpection, full water detection.
(7) Our technical team have received several proprietary technology and intellectual property. Gongyuan Group have recognized by domestic and oversea experts and customers.
Product Photo




FAQ
(1) Q: How to select the suitable product?
A: You can provide us your water source, water quality, flow rate and ground area. (Give us more details about the sewage and surroundings.)
(2) Q: How about the payment?
A: We can accept TT, L/C,West union. TT will be more appreciated. 30% deposit before producing, 70% balance before loading by TT.
(3) Q:How about the delivery time?
A: It depends on the order quantities and DAF size. Generally, the delivery time will be around 30 days.
(4) Q: How about the product package?
A: Normally, we will adopt standard package. If the clients have the special requirements for package, we will charge the extra packaging fees.
(5) Q: How to install the DAF unit after the unit arriving the destination?
A: We will provide the detailed operation manual to you. If it is necessary, we will send technicians to help you. But the visa fee, air tickets, accommodation, wages will be paid by you.
Please feel free to give your inquiry in the form below.